Welcome to our Website! We're very happy to see you here. We are thrilled to present to you AirSports Chamonix, as well as the persons who coordinate this service. We all hope to see you soon in the heart of our breath-taking valley.
Who are we?
We are an entity which was accredited by the FFVL (Fédération Française de Vol Libre – French Federation of Free Flight); we're opened throughout the year and our business is dedicated to paragliding and the paragliding environment:
school, training sessions for all levels
flight as leisure activity
first flight
speed-riding
shop
Our teaching staff includes eleven permanent instructors during the peak season and four in the winter. We also employ two secretaries and two other staff members.
Our story
It all began when Jean-Charles, who grew up in Chamonix, never taking off his skis or monoski, took an interest in a budding activity – paragliding. His very first flight dates back to 1989.
He spent some time learning the tricks, socialized with professional pilots enjoying vast experience in free flight, attended training sessions, had a few jobs, and took part in competitions. Then, he learnt to be an instructor, and was awarded licences and qualifications. He travelled and flew not only around Europe, but also in the Andean Cordillera and Hawaii. To put it in a nut shell, he spent his life flying, free as a bird.
This is how he started thinking of founding his own school. A school where the focus would be the student. The primary objective would be to share the pleasure of flying freely, and offer anyone the pure thrill of a wonderful sport, in complete serenity.
That was when Benoit came to learn how to fly… This is pretty unusual for a jumbo jet pilot! (though he flies other aircrafts too). During his training, the friendship between Jean-Charles and Benoit grew and when Jean-Charles mentioned his project to create a school, Benoit's support was spontaneous and total.
This was how Air Sports Chamonix was created on 1st January 2010.
Benoit immediately put on line the initial version of our Website and started learning how to become an instructor, when Jean-Charles, the only instructor in the school, taught how to fly to the first Air Sports Chamonix students, in the field.
Two years later, as a result of the development of the school, work was undertaken to rehabilitate the premises. Work is still carried out to offer a location that is just right for the fun and cool atmosphere of paragliding today, where students are happy to socialize before and after flying.
Finally, in 2015 Jean-Charles and Benoit decided to found a "SARL" (limited liability company) in addition to the initial local syndicate AirSports Chamonix, to develop the retailing business.
Our team
Our team now includes Benoit and Jean-Charles, as well as nine pilots having various types of experience in free flight and other professional skills. This highly skilled team of responsible and reassuring instructors, who share a true passion for paragliding, while promoting a safety-first approach, is a real plus for students.
And then, we have our two kind, efficient and responsive secretaries, Fanny and Louis. They are in charge of schedules, answer phone calls and e-mails, and handle reservations. All this while keeping a smile on their faces.
Our team also includes Alain, who has been our driver from day one or so. He's a paragliding pioneer in the valley and drives as well as he flies.
And finally, Kiki, a paraglider, secretary and back-up driver is always ready to give a hand and support the team.
The shop
Our shop has something for everyone in search of any type of paragliding equipment. We distribute most flagship brands in the free flight market. We always try as hard as we can to meet your requirements, in no time at all. All our team members will combine their skills to give you the best advice and meet your expectations.
Our location
It could not be better. It is a five-minute walk from the town centre (see map), at the end of the landing strip used for all flights as soon as Nordic ski trails are closed.
Now, you know everything! We are waiting for you for moments of pure fun and remember:
Even birds learn how to fly!
Book your first paragliding flight now and discover the joys of free flight!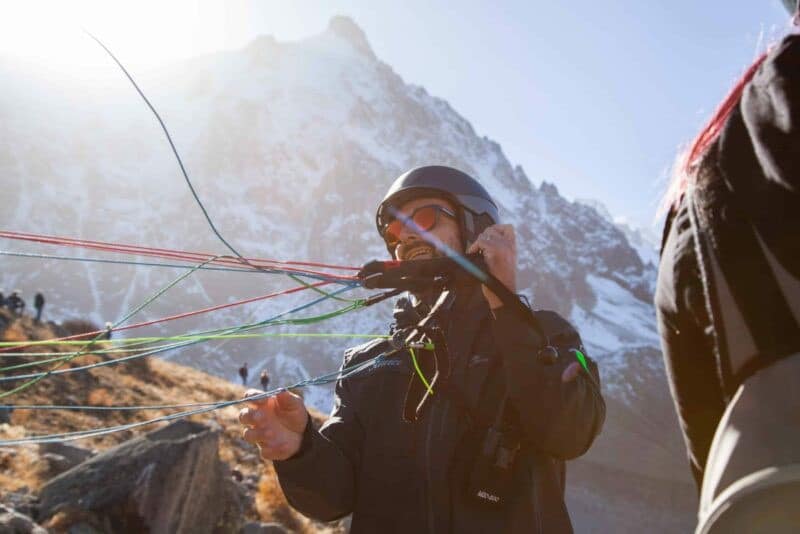 With our many courses, learn or improve your paragliding skills and live an unforgettable experience.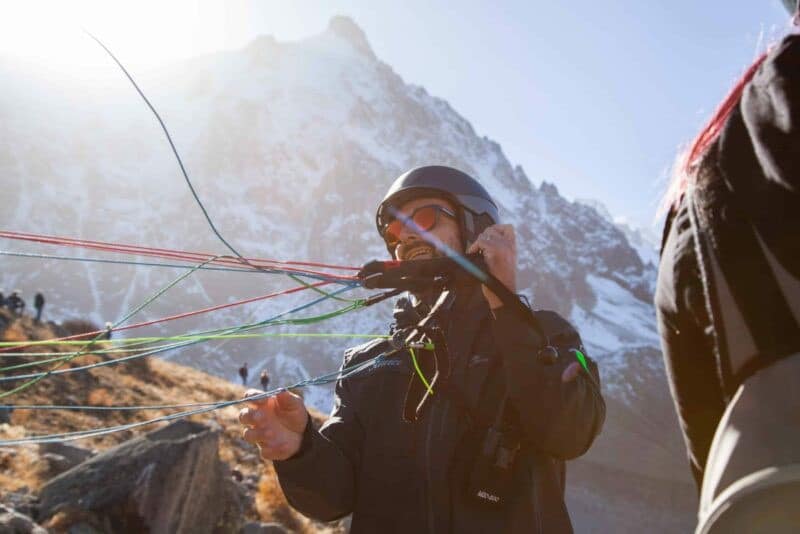 Get equipped
Paragliding shop
Buy your paragliding equipment online and enjoy our wide range of quality products at competitive prices!